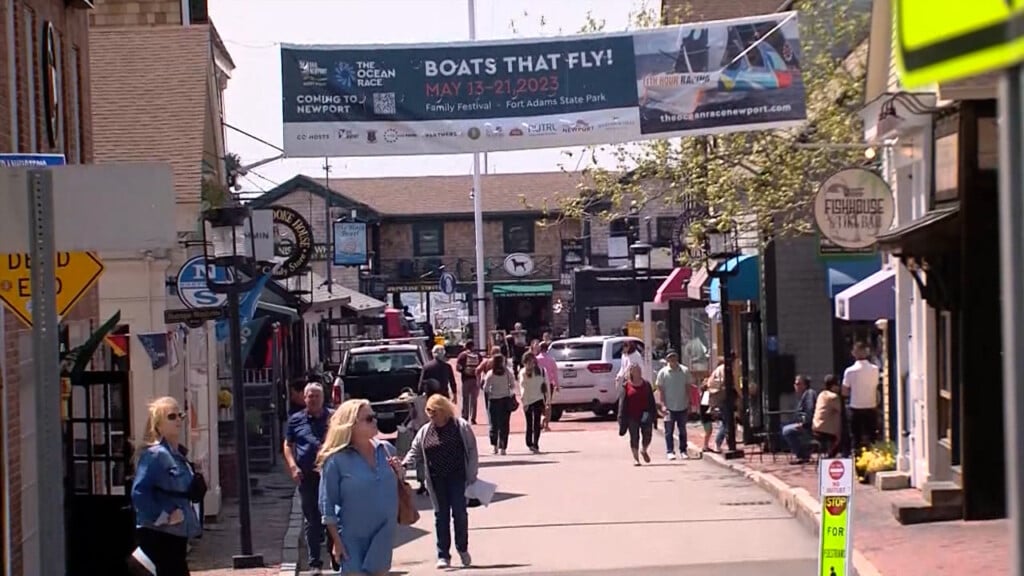 People are seen walking around downtown Newport during The Ocean Race. (WLNE)
NEWPORT, R.I (WLNE) — Newport's economy was left booming after The Ocean Race made a pit stop in the City by the Sea before sailing away to its next destination.
"[The Ocean Race] generat[ed] tens of millions of dollars for the city and state economy," said Evan Smith, president of Discover Newport.
This is the third Ocean Race Newport has hosted. This year, said Smith, the race attracted over 100,000 people.
When asked how much exactly the city profited from the event, Smith said they're still in the early phases of assessing the economic impact. He said it will take "weeks if not months" before they release a total economic impact statement.
"We're just thrilled that it was here," said Smith. "It started our tourism season — our peak tourism season is May through October."
He added that to have a "global event — a marquee event" come to Newport in the first two weeks of May was a "gigantic kickstart" for the tourism season.
Will Newport be ready to host future Ocean Race events?
"You know, that's a great question because you get so excited and so exhilarated after you do one of these things. You have to step back and assess it," replied Smith. "Sail Newport deserves mountains of credit for all the work they did."
However, while Smith said he "can't really speak on behalf of [Sail Newport] at this time," he believes the city impressed people enough that they may be invited to bid again.
"Whether we will go forward and move forward with another bid — that would be another conversation for another day," he said.
But will you be ready?
"Speaking on behalf of Discover Newport, we certainly would be but we're not the only organization responsible for this fantastic event" concluded Smith.
Also pleased with the revenue The Ocean Race brought to Newport was Mayor Xaykham Khamsyvoravong, who said the attendance numbers came in right on target, which is what he said they were hoping for from the event.
"We had an incredible amount of coverage that came with it. We had a lot of on the water followers as well," said Khamsyvoravong. "It was a very successful event for the city of Newport."
The Ocean Race is still in progress with teams heading to the next destination — Aarhus, Denmark.